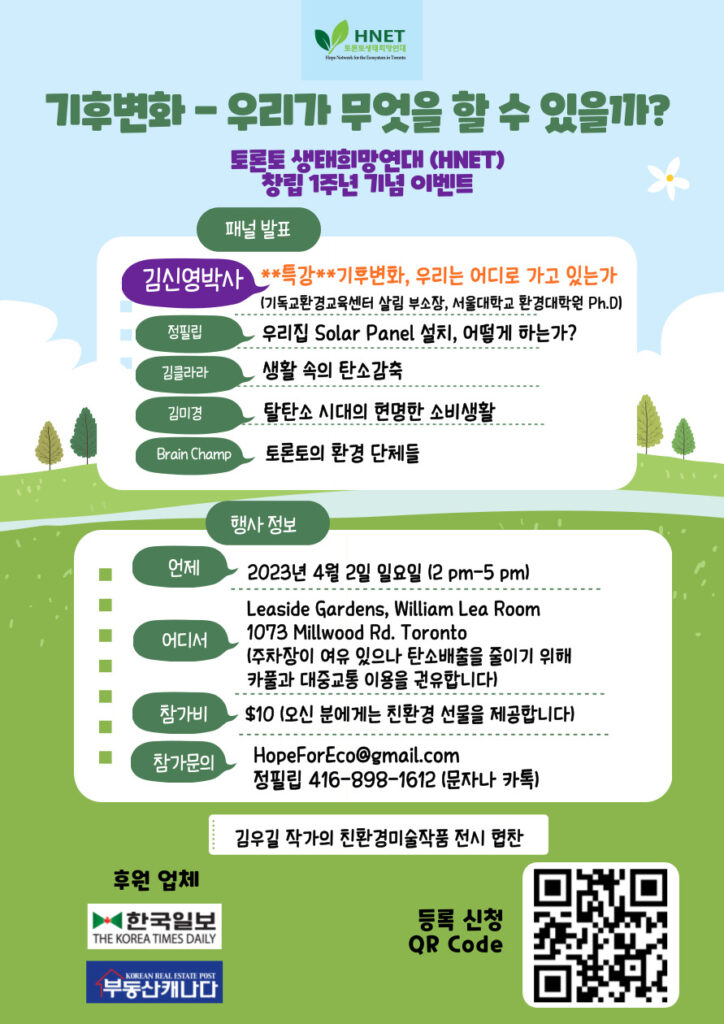 4월 2일 리사이드가든 윌리엄 레아 홀에서 창립1주년 기념행사가 열립니다. <기후변화 – 우리가 무엇을 할 수 있을까?>라는 주제로 초청강연이 있고 쏠라패널 설치, 생활속 탄소절감, 친환경소비, 토론토지역 환경단체 소개에 관한 주제발표를 나눕니다. 업사이클 예술가의 미술작품도 전시됩니다.
참석자들에게 친환경 선물을 나누려고 합니다. 등록은 (forms.gle/UiGY6zKzMKwPgjXe8) 으로 해주세요
On April 2, 2023, HNET will hold its 1st anniversary event titled 'Climate Change – What can we do?' at William Lea Room in Leaside Garden. The event will feature invited speakers who will discuss topics related to the climate crisis, solar panel installation, carbon reduction lifestyle, green consumers, and introduction of environmental groups in Toronto. Additionally, upcycling arts will be displayed, and environmentally friendly gifts will be provided to participants.